News
Clark County at Work: Lawrence Company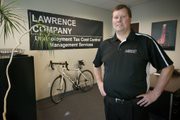 Photo by Troy Wayrynen
Jeffrey Lawrence, owner of Lawrence Company, says the company focuses on helping businesses deal with unemployment benefits.
By Mary Ricks Columbian Staff Reporter
Monday, March 18, 2013
Business name: Lawrence Company.
Owner and president: Jeffrey Lawrence.
What the business does: Lawrence Company is a family-owned business that runs a cost-control management services program in the area of unemployment taxes. Owner Jeffrey Lawrence said his company responds to all claims of questionable merit for unemployment benefits. The company also represents its clients in hearings regarding unemployment benefits.
Steps to build the business: The company has launched a mass-mailing program to make local businesses aware of its services.
Greatest challenge: Jeffrey Lawrence said his greatest challenge is competing with national companies that offer similar services. Lawrence said his pricing is generally based on a set fee, while the national companies more likely have a la carte pricing, which he said means that clients in many cases pay more for the services.
What's ahead: Lawrence said it is business as usual for the immediate future. The company will continue efforts to sign new businesses.
A favorite part of the job: Lawrence's favorite part of the job is working with family members and helping businesses save money in the process.
Owner's business history: Lawrence has more than 30 years of experience in the unemployment tax field.
Year established in Clark County: 1994
Employees: Four family members working full-time and two part-time employees.
Telephone: 360-896-0777
Fax: 360-896-1048
Email: lawrence@lawrencecompany.org
Website: Lawrence Company
Hours: 8 a.m. to 4 p.m. Mondays through Fridays